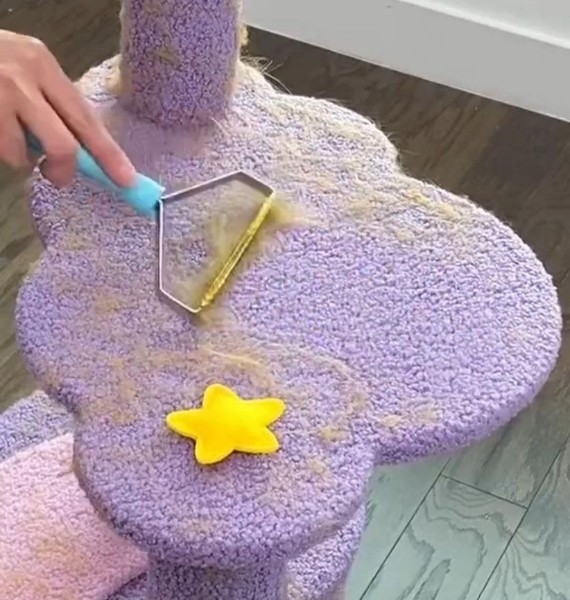 For pet owners, managing pet hair is an ongoing battle. Thankfully, the market offers a wide array of innovative tools to help keep our homes clean and hair-free. Whether you're looking for a pet hair remover, comb, brush, or even an upright cleaner, we've got you covered. Let's explore the top 10 options that have garnered rave reviews from pet owners worldwide.
1. Furminator: A household name, the Furminator tops the list with its exceptional deshedding capabilities. Its stainless steel teeth reach deep into the coat, reducing shedding by up to 90%. This tool is available in various sizes to cater to different breeds and coat lengths.
2. SleekEZ: Simple yet effective, the SleekEZ's patented blade effortlessly glides through the topcoat, removing loose hair, dander, and dirt. Its versatile design works well on both cats and dogs, making grooming sessions a breeze.
3. Hertzko Self-Cleaning Slicker Brush: This brush combines convenience and efficiency. Its fine bent wire bristles penetrate the coat, removing tangles and loose hair. With a push of a button, the bristles retract, allowing for easy hair removal and hassle-free cleaning.
4. Kong ZoomGroom: The Kong ZoomGroom doubles as a massager and hair remover. Made from gentle rubber, it stimulates natural oil production while capturing loose hair. This brush is ideal for pets with sensitive skin or those who enjoy a soothing massage.
5. ConairPRO Dog & Cat Pet-It: Designed with comfort in mind, this brush fits snugly in your hand, providing an ergonomic grip. Its gentle, flexible bristles untangle hair and remove loose fur, making it suitable for pets with sensitive skin.
6. ChomChom Roller: A game-changer in pet hair removal, the ChomChom Roller uses a patented mechanism to capture and collect hair from furniture, bedding, and clothing. With each swipe, it quickly gathers pet hair into a convenient compartment for easy disposal.
7. Bissell Pet Hair Eraser: If you're in need of a reliable upright cleaner, the Bissell Pet Hair Eraser is a top choice. Engineered specifically for pet owners, it features powerful suction and specialized tools to tackle stubborn pet hair on floors, upholstery, and stairs.
8. Dyson Ball Animal 2: Renowned for its superior suction and innovative design, the Dyson Ball Animal 2 is a force to be reckoned with. This upright vacuum cleaner effortlessly captures pet hair, dander, and allergens, leaving your home pristine.
9. Shark Navigator Lift-Away Professional: With its versatility and powerful suction, the Shark Navigator Lift-Away Professional is a popular choice among pet owners. Its detachable canister and various attachments make it easy to tackle pet hair on multiple surfaces.
10. Hoover WindTunnel T-Series: The Hoover WindTunnel T-Series offers a balance of performance and affordability. Equipped with WindTunnel technology, this upright cleaner effectively lifts and removes pet hair, ensuring a thorough clean throughout your home.
When selecting the right pet hair remover, comb, brush, or upright cleaner, consider your pet's specific needs, your home's surfaces, and your personal preferences. Each of these top 10 options has earned its reputation for quality and effectiveness in conquering pet hair.
Managing pet hair doesn't have to be a never-ending struggle. With the right tools at your disposal, you can maintain a clean and hair-free environment for you and your furry friend. Whether you opt for a Furminator, SleekEZ, or any of the others listed above.
Another option for pet hair removal is the Uproot Cleaner. A game-changing tool, the Uproot Cleaner is specifically designed to tackle pet hair on various surfaces. This portable handheld cleaner utilizes advanced suction technology to effectively lift and remove embedded pet hair from carpets, upholstery, and car interiors. With its compact design and powerful performance, the Uproot Cleaner makes quick work of pet hair cleanup, leaving your home pristine and hair-free.
The Uproot Cleaner is an excellent addition to any pet owner's arsenal, providing a convenient and efficient solution for removing pet hair from hard-to-reach areas. Its versatility and ease of use make it a go-to choice for those seeking a portable and powerful cleaning tool.
When considering the Uproot Cleaner or any other pet hair remover, comb, brush, or upright cleaner, evaluate your specific needs, the surfaces you need to clean, and your preferred cleaning method. Each of these top options offers unique features and benefits to cater to different pet owners' requirements.
In conclusion, with the help of innovative tools like the Uproot Cleaner, pet owners can conquer the never-ending battle against pet hair. By selecting the right pet hair remover or upright cleaner, you can maintain a clean and hair-free living space, ensuring a comfortable environment for both you and your furry companion.
Soothing Streams Pet Services/Cremation by Water
465 Maltbie Street, Unit 307
Lawrenceville, Ga 30046
404-482-1441